英国媒体HIFIPLUS评测旷世音响黄金旗舰四件套
评测媒体:HIFI PLUS
评测员:AlanSircom
要点摘录:
These four componentsall combine to make a truly world-class headphone replay system, one thatapproaches the music played without prejudice.
参考翻译:
这个四件套组合构成了一个真正的世界一流的级耳机回放系统,对音乐的处理不带任何偏见。
---
参考译文:
旷世音响黄金旗舰解码耳放四件套
作者 Alan Sircom
刊登在 第137期
早在第133期的时候,我们评测了旷世音响CMA800R 这款优秀的 耳机放大器。当时我们建议,将来用两台CMA800R组合为平衡模式再做一次后续评测。但是后来,另一个想法诞生了......为什么不尝试一下完整的四件套呢,或者说,为什么不试试黄金版的四件套呢?
旷世音响的第一款四件套(不包括他们的无线功放)包含前面提到的两台CMA800R耳机放大器 ,一台CAS192D解码器和一台CMA800P前级放大器。这个四件套产品在发布之后三年左右的时间里,有两个重大的改变,一个是CAS192解码器升级为CAS192D,它可以支持DSD解码,另一个是标准版升级为黄金参考版。顾名思义,也如图片所示,参考版机型与标准版机型最大的区别就是金色的外壳,它从头到脚全部是金色的。对于一些保守的英国人来说,这可能有点华丽和耀眼,是的,看着面前这四个金色的机器,我突然有种想坐在Maybach的后座喝杯水晶香槟的强烈的欲望!
除了金色的外壳,参考版的每一台机器都取代标准版机器的元器件而使用了精选的元器件,PCB换成了定制的Rogers(罗杰斯)陶瓷PCB,沿用了标准版机器的基本电路设计,在富士康生产制造。这个过程就像是为发动机绘制蓝图,标准版机型在构建时就留有余地,因为器件有不同的参数值。旷世音响的参考版系列产品全部使用精挑细选的器件,所以器件参数值在最初的电路设计中就规定好了。当你认为电路中的每个器件在实际应用时可以有10%的变化幅度,那么数百个器件±5% 到± 0.5% 的差异将在性能上造成很大不同。
这种"蓝图"设计在高端音频行业很常见,但也需要花点心思,使用人工挑选最好的器件,这需要花时间,许多公司会选择更容易一点的方式,从一开始就指定更昂贵,更精确公差的器件,这需要花钱。通常,一个价格昂贵的产品,即使用了很知名的元器件,也不能真正决定产品的声音会更好,因为没有一个基本的版本。虽然旷世音响的产品设计中也使用了知名的元器件,但他们公司还为你提供了标准版和"蓝图"版的选择,所以你可以直接去听,看看是否有所不同,然后你自己做决定。这在音频行业里几乎是独一无二的。参考版的每个机型都比标准版贵 800 英镑,如果有人尝试过了这两种版本后,很快就喜欢上了这个耀眼的金色参考版的话,我不会感到惊讶。
当然,如果基本的电路设计达不到标准,产品的规格参数再高也不是什么好产品。幸运的是,这套金色的产品,在这两个方面,都很好地证明了自己在这个行业里的地位。旷世音响的前级放大器和耳机放大器中的核心技术是电流模,一个四级跨导放大器电路,在第133期的CMA800R评测中我们已经讨论过一些相关的细节。本质上讲,它是一个超低失真,超宽带宽的放大器电路,使用超高速工作的负反馈电路(从而把潜在的转换速率问题减少到无穷小),在此工作环境下,前级放大器"只是"负责增益控制和讯源切换,两台CMA800R分别负责左右声道放大。如果你有两副耳机(和合适的电缆),就可以用平衡模式驱动。用这种方式得到平衡模式,从经济角度看有点不划算,因为没有人愿意花超过 10000 英镑买一台耳机解码器,而且放大器需要不能实现平衡的耳机。
"如果把你的耳机比作一部车,这就像是它们在公路上停止了行驶,面前是一条赛车道,来看看它们到底表现如何。"
这个电流模驱动的一个例外是CAS192D,一个 24bit 192kHz采样率的解码器,使用了一颗Wolfson WM8471解码芯片和两个独立时钟,支持异步USB输入。这两个时钟可以让数字信号根据其基本采样率,进行异步采样转换到176.4kHz 或192kHz。现在的机器型号支持DSD128,增加了一个时钟。跟其他的一些升频设计不同的是,如果你想按照音乐文件本身的采样率播放, 这个升频功能可以在前面板上关闭。使用线性的PCM模式时,解码器提供了五个滤波器供用户选择,以及有限和无限脉冲响应选择。平衡模式下,我更喜欢IIR滤波器。播放DSD时,没有滤波器。
"CMA"是"电流模式放大器"的缩写,"CAS"代表"电脑作为讯源"。这二者都有同轴和光纤 S/PDIF数字输入,但解码器还可以通过USB连接电脑。是的,你可以把CD机,或者流媒体播放机接到CAS192D,但那不是他们打算做的市场。这或许有点可惜,因为光纤是为数不多的真正支持24bit 192kHz 信号的传输方式之一。
整个系统在操作运行上最巧妙的地方是CAS192D所支持的DSD回放模式。目前多数能支持DSD的解码器都靠的是DoP,而旷世音响的解码器是绕过电脑的音频处理子系统和CAS192D自身的数字滤波, 通过USB直接处理电脑中的DSD码流 ,实现真DSD数据解码。当然,这也意味着你必须使用可以支持这种模式的播放程序(比如JRiver),DoP 模式相对更加普遍和容易。不过,我个人不会再去挑剔这样一个真正优秀的解码器,即使是它对用户在使用时有一些限制。
这篇评测是最好写的评测之一。读一读原来的评测,把它再放大几倍就可以!CMA800R 在市场上已经是人们比较熟悉的耳机放大器了,而完整的四件套的性能,人们还不太了解。它的特点是动态大,透明,细节丰富,声音完全准确,就像是一个单独的放大器,甚至更好。特别是一台声音极其透明的前级放大器和解码器配合两台放大器,扩大了整个系统的动态范围,显著地降低了本底噪声。这不是一个小变化,如果把你的耳机比作一部车,这就像是它们在公路上停止了行驶,面前是一条赛车道,来看看它们到底表现如何。这并不是指播放声音大,如果有什么不同的话,那可以说是平衡模式的一大优势,即降低本底噪声,特别是在音量较小的时候。
解码器的性能也很杰出,它和这套系统其余的机器一样准确,灵敏,快速,声场大,中频饱满。这个四件套组合构成了一个真正的世界一流的级耳机回放系统,对音乐的处理不带任何偏见。在PCM模式下,我播放了Led Zep DSD文件,在"Good Times, Bad Times"一曲中,中频动态的每一处细微变化,每一个细节都轻松呈现。如果你听真正高质量音响一段时间之后,你根本没有多少"喘息"的时刻......但是这真的很过瘾。我很熟悉这首曲子,我听过它所有的版本,从单声道的盒式录音带到制作精良的黑胶,我也很清楚它明显的录音缺陷,但这个四件套系统避开了这些缺陷,在某种程度上更吸引我去仔细品味这首歌曲,而不是评论旷世音响的这套桌面音响系统。
从绝对意义上讲,这套系统的局限之处确实有所暴露,或许用"暴露"一词不太恰当。相对于一些最好的系统,这套系统的平衡性方面,中高频有一点儿快,这句话并不矛盾,整体的平衡度是中立的,与其说是"顺滑",不如说是"直接",严格来讲,中高频有点丰富。旷世音响的整个系统每一个频段都不会过于夸张或者轻描淡写,中高频没有"顶峰",声音丝滑而饱满,这很容易让人接受,也很好听。
此外,还有一个这样的故事:CMA800R 的诞生源于人们很难找到一款理想的耳机放大器来驱动森海塞尔 HD800, CMA800P (和CAS192D搭配)是源于 受Stax 委托,为他们公司的旗舰静电耳机 SR-009 做一个前端,搭配energiser。眼尖的Stax 的发烧友或许会注意到,energiser已经搭配过各种前级和音量控制,这是SR-009,的潜力所在,Stax 想用旷世音响的电流模放大技术做一台具备线性度和极低失真的前级放大器,以展示他们旗舰产品的潜能。同样眼尖的Hi-Fi + 的读者也会注意到,这一期中有一个Stax产品的介绍。似乎像是我们计划好的......
把这两台 CMA800R拿走,用 Stax SRM353X代替, 加上解码前级和energiser,组建成一个新的 Stax SR-L500耳机系统, 就像是为你耳机系统按下涡轮按钮一样。这套Stax系统的性能出乎意料的好,成本自然是有一个巨大的飞跃。这个系统能明显展示出 Stax 入门级静电耳机的全部细节和高保真的声音,让我想立刻重新评测一次 SR-009。如果这个入门级的耳机可以有这么好的声音,那么他们的旗舰静电耳机会有什么样的表现呢?
旷世音响的这个四件套最大的优点是,它们都以平衡和准确为共同的目标,发挥各自的性能,又彼此配合。有一种感觉,如果你开启任何一台设备,其他的都会顺理成章地配合。如果你有一副足够好的耳机搭配 CMA800R来很好地利用它的平衡模式,那么选择用两台 CMA800R是必然的,这也意味着可以用一台CMA800P来驱动你的耳机,解码器当然是负责为其他三个设备传送最佳的信号。或者,你先连接解码器,然后再连接 CMA800R。再或者,你有一副 Stax energiser, 你想要听听看它的声音如何,那么你就可以搭配一台CAS192D 和 一台CMA800P。当你在比较黄金版与标准版的时候,你可能会选择旷世音响的黄金版,因为它的每一个方面都很优秀。我不是说这就是你的耳机所需要的全部,因为我要保住我的工作,总会有下一个声音更好的设备,但假如明天我不当编辑了,我想要搭配一个最好的耳机系统时,我将需要这一套在我电脑旁边的黄金四件套......
技术参数
旷世音响CAS192D Golden
类型:解码器
输入:USB, S/PDIF Toslink 和RCA
输出:非平衡RCA和平衡 XLR
精度:16/44.1-24/192 PCM 和真 DSD(DSD128)
滤波器:5种可切换IIR (MP) 和 FIR(LP)
PCM升频:双时钟整数倍,可禁用
USB端内核流:WASAPI, ASIO, KS
信噪比:115dB (RCA), 116dB (XLR)
THD+N: <0.005%
外部尺寸:(宽×高×深)33×33×5.5cm
价格:2,399英镑
旷世音响CMA800P Golden
类型:纯A类耳机前级放大器
输入:1对 XLR,1对RCA
输出:1对 XLR,1对RCA
性噪比:131dB (XLR)/124dB (RCA)
THD+N: 0.00021% @ 1kHz, 10kΩ (XLR); 0.00023% @1kHz, 10kΩ (RCA)
外部尺寸:(宽×高×深)33×33×5.5cm
价格:2,899英镑
旷世音响CMA800R Golden
类型:纯A类电流模耳机放大器
输入:RCA/XLR (立体声模式),XLR(单声道模式)
输出:两个6.5mm耳机座(立体声),XLR全平衡 (单声道),一对RCA (前级)
频率响应:DC-200kHz (+0, -0.3dB)
信噪比:(1kHz, 300Ω): 0.00026% (单声道);0.00038% (立体声)
增益:15.5dB
300Ω 负载最大输出功率:180mW(立体声),710mW (平衡)
外部尺寸:(宽×高×深)34×14.5×5.2cm
重量:5kg
价格:2,399英镑一台
制造厂商:旷世音响
URL:www.questyle.com
英国经销商:SCV Distribution
URL:www.scvdistribution.com
电话:+44(0)3301 222500
---
英文原文:
Questyle 'Golden' Reference EditionDAC/ headphone amplifier stack
by Alan Sircom
REPRODUCED FROM ISSUE 137
Back in Issue 133, we reviewed Questyle's excellent CMA800Rheadphone amplifier. At the time, we suggested there would be a follow-upreview of a pair of CMA800Rs for balanced operation. But then, an idea washatched…why not go for the full stack? In fact, why not go for gold?
Questyle's first electronics stack (not including the company'sclever wireless power amplifiers for loudspeaker users) features theaforementioned CMA800R headphone amplifier – two of them, in fact – the CAS192DDAC, and the CMA800P preamplifier. There have been just two significant changessince these products were released three or so years ago; the CAS192 DAC becamethe CAS192D model when it began supporting DSD replay, and the changes madebetween the standard and 'Golden' Reference editions. As the name – and thepictures – suggest, the Reference models differentiate themselves externallyfrom their standard siblings through the use of a gold finish. It's an all-overgold finish, too, right down to the feet. This might be a little 'bling' forconservative British tastes, and yes… confronted with the full four-box goldstack, I do feel a sudden, burning desire to drink Cristal from the back seatof a Maybach. Word!
There is more to the Reference Edition than just the goldfinish, however. Each model takes the basic circuit design of its standardissue model, replaces the standard components with selected components, andswaps out the standard circuit board for a custom thick film ceramic PCB made byRogers. The products are still constructedin the Foxconn factory, however. Think of this process like blueprinting for anengine; the standard model is built with some wiggle-room thanks to variationsin component value. Questyle's Reference series products use more carefullyselected components throughout, so component values are precisely those laiddown in the original circuit design. When you think that each component in acircuit could have as much as a 10% variance on its actual rating, shaving ±5%down to ±0.5% across hundreds of components should make a substantialdifference in performance.
This 'blueprinting' practice is common in high-end audio,but with a twist; instead of using the right components for the job andhand-selecting the best versions of those right components (which takes time),many companies take the easier option of specifying more expensive componentswith more precise tolerances (which costs money) from the outset. Typically,this means an expensive product bristling with 'big name' components and noreal way of determining whether they make the product sound better, becausethere is no basic version made available. Although Questyle also uses big namecomponents in its construction, the company also gives you the option of thestandard and 'blueprinted' versions, so you can directly hear if there is adifference and decide for yourself. This is almost unique in the audio world.Each Reference model commands an £800 premium over its base model, and Iwouldn't be surprised if anyone who tried both in quick succession develops asudden lust for lustre…
Of course, high spec products are as nothing if the basiccircuit design is not up to scratch. Fortunately, in each case, these goldenproducts justify their place in the hierarchy extremely well. The coretechnology in the preamplifier and headphone amps is Questyle's Current ModeTechnology, a four-stage transconductance amplifier circuit, which we discussedin some detail in our Issue 133 review of the standard, solo CMA800R.Essentially, however, this is an amplifier circuit that ends up with extremelylow levels of measured distortion and wide bandwidth, using a negative feedbackcircuit that works at far higher speed than is usually found in audioamplifiers (thereby reducing potential slew rate problems to theinfinitesimal). In this setting, the preamp 'simply' takes over the gaincontrol and source switching (of sorts; it's more a balanced one-input activegain control with an optional single-ended input than a full-blown line stage),while the pair of CMA800R take over left and right channel amplification, ifyou have a pair of headphones (and the right set of cables) that can be drivenbalanced. This is kind of financially self-balancing, however, because no-onewilling to spend over £10,000 on aheadphone DAC and amplifier stack is going to use a headphone that cannot berun balanced.
"It's like your headphones stoppeddriving on public roads and were given a racetrack to show what they can reallydo."
The exception to this current mode drive is the CAS192D,originally a 24-bit, 192kHz upsampling DAC, featuring a Wolfson WM8471 DAC andtwo independent clocks and asynchronous USB input. The clocks allow digitalsignals to be ASRC upsampled to either 176.4kHz or 192kHz depending on theirbase sampling rate. Later and current models added DSD128 support and anadditional clock for that stage. Unlike some upsampling designs, this optioncan be disabled from the front panel, if you decide to run the file at itsnative resolution. Run in linear PCM mode, the DAC offers the user has thechoice of five filter settings, with both finite and infinite impulse responseoptions. I preferred 'IIR Apodizing' on balance, with 'FIR Apodizing' coming adistant second. There are no filter options for DSD replay.
Where in the amplifiers, the 'CMA' suffix means 'CurrentMode Amplifier', in this case, 'CAS' stands for 'Computer As Source'. Althoughit has both coaxial and optical S/PDIF digital inputs, the DAC is intended torun USB direct to a computer. Yes, you can run a CD transport into the CAS192D– or maybe even a streamer – but that's not its intended market. This is ashame, perhaps, because the Toslink is one of the few that genuinely supports24 bit 192kHz signals.
The only operational quirk – in fact, the only operationalquirk to the whole system – is the DSD replay options open to the CAS192D.Where most modern DSD-capable converters rely on DoP (DSD over PCM), Questylehas gone the more 'honest' route by accessing the DSD bitstream direct from thecomputer itself, bypassing the computer's own audio processing subsystems, andthe CAS192D's own digital filtration. And it does this through USB. Of course,this also means you are locked into programs that support such a direct route(currently, that means JRiver) and the DoP option is the more widespread andeasy path to take and there will likely be some gnashing of teeth at the lackof convenience in all this. However, I feel personally uncomfortable incriticising a DAC for doing the right thing, even if that right thing meansmore hoops for the end user to jump through.
This is one of the easiest reviews to write. Read theoriginal review and multiply it a couple of times over! The CMA800R was alreadyone of the least intrusive sounding headphone amplifiers on the market, andwhat the full stack offers is a lot less, in all the right ways. It's dynamic,transparent, detailed, and fundamentally accurate, just like the loneamplifier, only more so. The addition of a second amplifier – especially whenfed from a supremely transparent preamplifier and DAC – extends the dynamicrange, and lowers the noise floor significantly. This is not a small change;it's like your headphones stopped driving on public roads and were given aracetrack to show what they can really do. This doesn't just mean playing loud;in fact, if anything, the great advantage of balanced operation is it lowersthe noise floor and that is best heard at lower volume levels, if theheadphones are up to the task.
The addition of the DAC tops this off perfectly. It's asaccurate as the rest of the system, and focuses on delicate, fast-paceddelivery, with a vast amount of space around the music, and just a hint ofmidrange richness. These four components all combine to make a trulyworld-class headphone replay system, one that approaches the music playedwithout prejudice. And this with straight PCM: I played some Led Zep DSD filesof 'interesting' provenance [Atlantic, I guess] and the sound was as if I hadtaken a pair of cans off the mixing desk. Every last detail – right down toslight changes in Jimmy Page's picking dynamics mid way through 'Good Times,Bad Times' – were there for the taking. After using really high-quality audiofor the longest time, you don't get many 'gasp' moments… but that really hitthe spot. I know the track well, having heard it on everything from a monocompact cassette through to well-pressed vinyl, and I know its (very obvious)recording limitations, but this stack just side-stepped that and connected mewith the recording in a way that more than justifies all the desktop realestate the Questyle grabs.
In absolute terms, the limits of the system do get exposedat this level, even if 'exposed' is probably the wrong term. When going upagainst some of the very best, the neutrality of the whole system does comewith a touch of upper-mid forwardness. That sentence doesn't contradict itself;the overall balance is neutral, more 'direct' than 'smooth', and in absoluteterms has a slight upper-mid richness. It's not 'peaked' in the upper mids, andthe Questyle stack is certainly not exaggerated or underplayed across its wholefrequency range. It's more that the Questyle sound unveils itself to have aslight silken richness in the upper mids. That's more than acceptable; it'sentertaining.
There's an additional twist to the tale. Where the CMA800Rwas born out of frustration in trying to find an ideal headphone amplifier forthe Sennheiser HD800, the CMA800P (and matching CAS192D) came about as a resultof Questyle being commissioned by Stax to make a front-end for the company'sSR-009 flagship electrostatic earspeakers and matching energiser. Keen-eyedfollowers of Stax products might notice the company's energisers already comewith a preamp of sorts and a volume control, but such is the potential of theSR-009, Stax wanted a preamp with the kind of linearity and exceptionally lowdistortion offered by Questyle's current-mode amplification, to show what itsflagship is capable of. Equally keen-eyed readers of Hi-Fi+ will notice there'sone of Stax' line-up in this issue. It's almost as if we planned it…
Removing the two CMA800R and substituting them for the Stax SRM353Xand hooking the DAC, preamp, and energiser to the new Stax SR-L500 earspeakerswas like pressing the turbo button on your inner audiophile. The performance ofthe Stax combo – already surprisingly good, given the cost of admission – tooka massive leap forward. It showed precisely what that new entry point into Staxelestrostatics can do in terms of absolute detail and fidelity to the sound. Itwas a bit of a 'good grief, that's what they can do!' moment, and made me wantto immediately re-evaluate the SR-009; if the baby of the range can be made tosound this good, what kind of headphone is really lurking inside the flagshipelectrostat?
The best thing about this Questyle quartet is they all goafter the same goal of neutrality and accuracy; the performance of one goeswith and builds upon the performance of the others, and there's a sense that ifyou start with any one device, the others will logically follow. If you have apair of headphones good enough to warrant a CMA800R, they are good enough tobenefit from balanced drive, in which case two CMA800Rs are the logical choice,and that means a CMA800P is the logical choice in driving them, and the DAC isthe obvious model to deliver the best signal to that trio. Or, you start withthe DAC for its sheer fidelity, then add a CMA800R and go down that route. Oreven, you have a Stax energiser and want to hear what its capable of, and windup with a CAS192D and a CMA800P. And when you compare the gold standard withthe regular versions, you'll probably go for gold at each step along the way.Every way you slice this up, all roads lead to a couple of gold Questyle boxesor more. I'm not saying this is all you ever need in headphone replay because Ilike to keep in employment and there's always the option for the next thing tosound even better, but if those Editor powers wore off tomorrow and I wantedthe best in headphone replay, I'd have a little pile of gold bricks next to mycomputer…
TECHNICAL SPECIFICATIONS
Questyle CAS192D Golden
Type: Digital to Analogue converter
Inputs: USB, S/PDIF Toslink and RCA
Outputs: Unbalanced RCA and balanced XLR
Precisions: from 16/44.1-24/192 PCM and True DSD (DSD128)
Filters: 5 switchable IIR (MP) and FIR (LP)
PCM upsampling: Dual clock integral, defeatable
Core Audio for USB: WASAPI, ASIO, KS
S/N ratio: 115dB (RCA), 116dB (XLR)
THD+N: <0.005%
Dimensions (W×H×D): 33×33×5.5cm
Price: £2,399
Questyle CMA800P Golden
Type: Pure Class A headphone preamplifier
Inputs: 1x pair XLR, 1x pair RCA
Outputs: 1x pair XLR, 1x pair RCA
S/N ratio: 131dB (XLR)/124dB (RCA)
THD+N: 0.00021% @ 1kHz, 10kΩ (XLR); 0.00023% @ 1kHz, 10kΩ(RCA)
Dimensions (W×H×D): 33×33×5.5cm
Price: £2,899
Questyle CMA800R Golden
Type: Pure Class A current mode headphone amplifier
Inputs: RCA/XLR (stereo mode), XLR (mono mode)
Outputs: dual 6.5mm headphone jacks (stereo) XLR fullbalance (mono), RCA pair (preamp)
Frequency response: DC-200kHz (+0, -0.3dB)
S/N ratio: 114dB (stereo), 118dB (mono)
THD+N (1kHz, 300Ω): 0.00026% (mono); 0.00038% (stereo)
Gain: 15.5dB
Max output power for 300Ω load: 180mW (stereo), 710mW(balanced)
Dimensions (W×H×D): 34×14.5×5.2cm
Weight: 5kg
Price: £2,399 each
Manufactured by: Questyle
URL: www.questyle.com
Distributed in the UK by: SCV Distribution
URL: www.scvdistribution.com
Tel: +44(0)3301 222500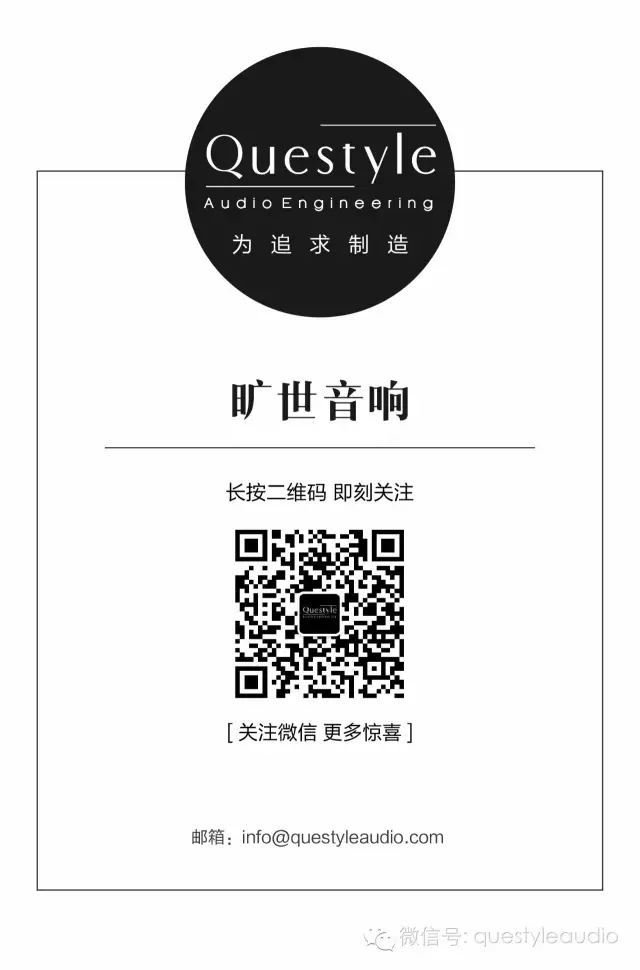 热点新闻