Audiophiles can be snobs. No, really! It's true. They want their home amps to be Class A and they will secretly think (or loudly proclaim) that other amp styles are lesser constructs. This mindset can be a serious challenge for personal audio enthusiasts who can't or won't want to haul huge power-hungry devices with them on the go. So, it was with much enthusiasm when Questyle launched their Current Mode Amplification (CMA) as a new approach to Class A that not only could be used in desktop devices but could also be made easily transportable. One of my favorite portable players was Questyle's CMA Class A inaugural portable, the QP1r, a Guru product of the year winner. https://headphone.guru/questyle-qp1r-dap-a-hi-res-value-without-sonic-compromise/ and https://headphone.guru/headphone-gurus-2015-products-of-the-year-and-writers-choice-awards-the-best-of-the-best/
Questyle's desktop products have been equally high quality and assembled to an impeccable standard at the same Foxconn facility that assembles the iPhone for Apple, Inc. Their current flagship DAC/Headphone amplifier is the CMA Twelve. The Twelve indicates twelve years since Questyle founder Jason Wang invented Current Mode Amplification. Produced in Black or Gold machined aluminum, with a standard or master quality option (Master includes a ROGERS ceramic PCB for ultimate signal processing quality), the CMA Twelve has the usual ¼" single-ended and four-pin balanced XLR headphone jacks and was one of the first offering the new 4.4mm balanced jack. The front is clean with switches to select between Headphone amp or DAC only and High or Standard Bias control. There is a bank of lights that let you know the file data type and quality as it is being played as well as which input you have active. Once you have them down a glance tells you everything you need to know about what you are playing. Nice! The rear of the unit has a strong selection of input options including USB, Toslink, AES, and S/PDIF. The outputs include Single-Ended RCA and Balanced XLR with a switch to select from Fixed or Variable output allowing for Preamp capabilities and a Standard 14dBu or Studio 20dBu output switch for level matching.

Inside, the CMA Twelve's layout is clean with top-quality parts used throughout. Flagship AKM 4490 DAC chips are supported by WIMA Capacitors, Nichicon capacitors, and DALE resistors. Questyle uses what they term True DSD allowing for the processing of DSD files totally within the DSD domain with no PCM conversion up to DSD 256 natively. PCM files are handled to 32/384 depending on input. All that tech adds up to great sound in a premium chassis designed to eliminate vibration and produce as direct a signal as possible in pure Class A.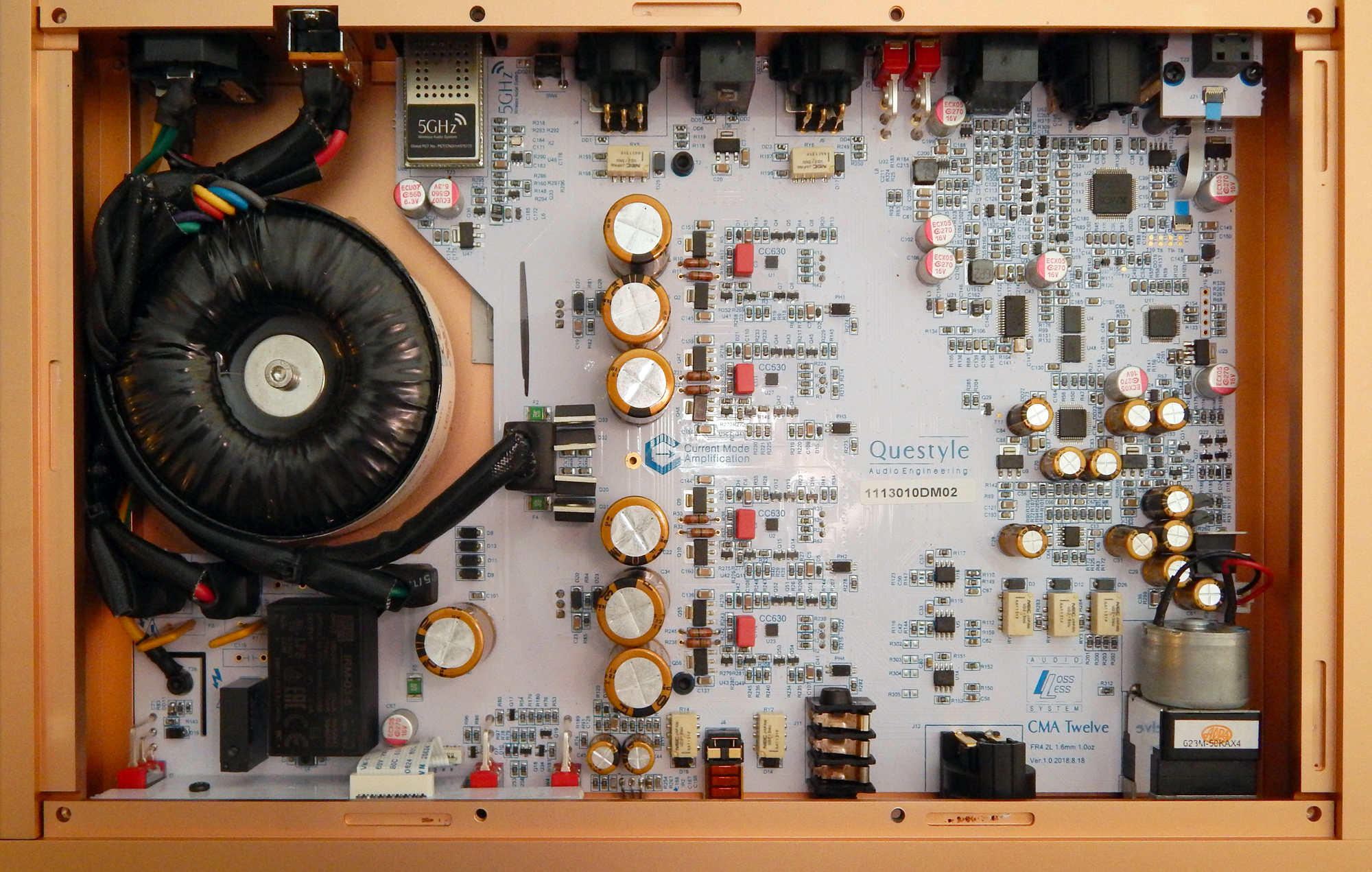 One of the things I have appreciated about previous Questyle desktop gear is their ability to drive a wide variety of headphones beautifully. So, after some burn-in time, I led off with my Sennheiser HD800s using the standard ¼" single-ended jack. I was sourcing via Roon on my Mac Mini using an AudioQuest Diamond USB cable. Daft Punk has been in the news lately as they have ended their nearly three-decade-long partnership. I queued up "Lose Yourself to Dance" from "Random Access Memories" (Columbia 2013) in 24/88.2 FLAC via Qobuz and was immediately enjoying the deep bass groove from this popular dance track. The hand-clapping was sharp and natural as Pharrell Williams added his smooth vocals. The HD800s provided a great tool for the CMA Twelve to throw a wide soundstage with good directional positioning. This is a fun album that for me is more accessible than some club electronica. I went through the entire album and enjoyed the presentation. A good start for the new Questyle flagship.
Next up was my Focal Utopias with the Dana Cables Lazuli Reference cables in four-pin XLR Balanced. The Dave Brubeck Quartet's "Time Out" album is a classic jazz standard older than I am. Yet its music has been used on countless movie soundtracks. "Take Five" (Columbia 1959) in 1bit DSD has such a laid-back cool vibe and via the CMA Twelve, it was offered up with a sense of wonderful space and dimensionality. Joe Morello's opening snare drum had the requisite crisp and precise snap on the drumheads. Paul Desmond's saxophone was late-night jazz club smooth. Eugene Wright's upright bass gave a solid foundation and drive to the song. Brubeck's piano was a perfect second to the saxophone's harmony. The CMA Twelve really showcased the Utopia's beryllium M dome drivers to full effect. It was a strong combination.
Moving on to the Audeze LCD-X planar magnetic via the 4.4mm balanced output I went Hard Rock with Disturbed's "Immortalized" (Reprise – Warner Bros. 2015) 24/48 AIFF CD Rip. "The Vengeful One" is a hard-driving guitar powerhouse that hits hard from the first note. The CMA Twelve opened the LCD-Xs up and drove the song hard with all the power and force necessary to give the song justice. Guitar, bass, and drums teamed up to support Dave Draiman's powerful vocals. Having been to a few Disturbed concerts this was a fun ride remembering the visceral power of those performances. The Questyle flagship brought the energy and allowed the Audeze's to rock out. It was truly excellent.
I threw a number of genres and headphones at the CMA Twelve and the results were all good. It is worthy of the flagship moniker. The option of single-ended and two balanced connection styles makes it accessible to a wide array of headphone choices. The switchable BIAS allows for an even wider choice of headphone or two-channel pre-amp options. The DAC is very clear without being overly bright and uses a favorite DAC of mine, the AKM 4490. I came to enjoy the front panel LED layout as it did not take long to be able to glance at it and know the type and bit rate of the file being played. A good thing for a Roon radio user. Given the build quality and track record of Questyle, I would expect the CMA Twelve to have pride of place in your headphone listening space for many years to come. Highly recommended.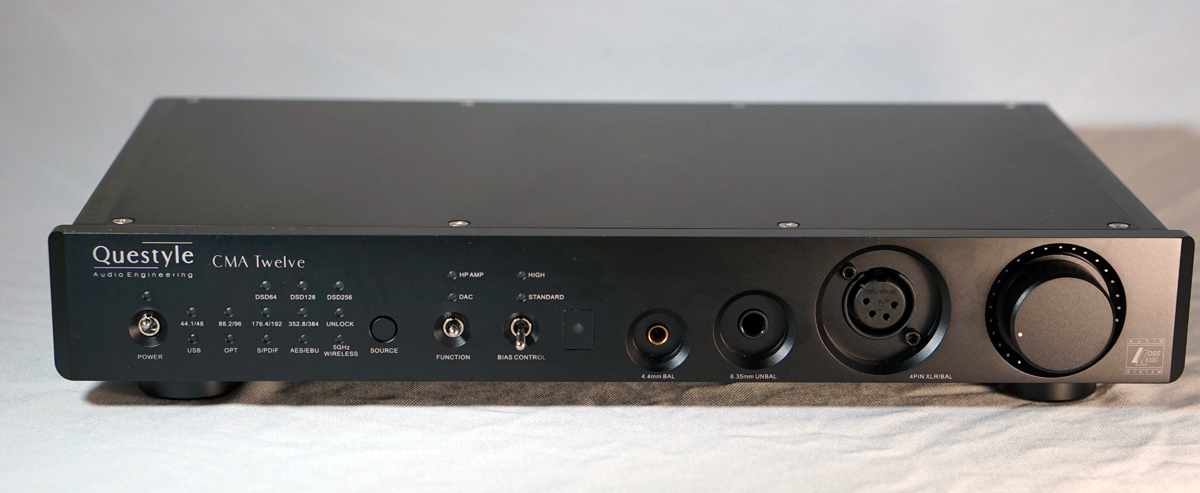 Specifications:
Finish – Black or Golden · Chassis Materials: special CNC tooled Aluminum · Dimension: 12.99"(330mm)[ W ]×7.87"(200mm)[ D ]×1.38"(55mm)[ H ] · Working Status: Pure Class A · Voltage:100-120V or 220-240V,the voltage is switchable. · Power Consumption: 17W DAC + Headphone Amplifier Section – Outputs: 4.4 mm balanced headphone jack 4PIN balanced headphone jack 6.35mm headphone jack – Max Output Power: 247mW @ 300Ω; 900mW @ 32Ω(6.35mm headphone jack) 825mW @ 300Ω; 2W @ 32Ω (balanced headphone jack) – THD + N: 0.00070% @Po=100mW, 300Ω 0.00167% @ Po=50mW, 32Ω – Frequency Response: DC-20kHz(+0, -0.4dB)@0dBFS, 24Bit, 192kHz DC-80kHz(+0, -3dB)@0dBFS, 24Bit, 192kHz – SNR: 112dB, non-weighting DAC + Pre-Amp Output Section – USB Type B Input: Support 44.1kHz-384kHz/16Bit-32Bit PCM and DSD Native DSD64, DSD128, DSD256, as well as DSD64, DSD128, DSD256 of DoP format (Note: support Win XP, Vista, Win7, Win8, Win10 and Mac OS) – Digital Input & Output: SPDIF input and output, Optical input, AES/EBU input Support 44.1kHz-192kHz/16Bit-24Bit PCM – Pre-Amp & DAC Section: Balanced XLR x1 pair, unbalanced RCA x1 pair STANDARD 14dBu: XLR: 5.084V RCA: 2.549V STUDIO 20dBu: XLR: 8.887V RCA: 4.475V THD+N@STUDIO 20dBu: XLR: minimum at 0.00085% RCA: minimum at 0.00115% SNR: XLR:>112dB RCA:> 109dB (non-weighting) (Note: FIX/ADJ: Fixed Output Mode or Adjustable Output Mode of the pre-amp.)
Price: Standard $1499.00 USD / Master $1999,00 USD